First, and most importantly, Brianna Decker sent out this tweet on Monday:
A little Wisco love from sochi!! @mduggan10 @Vetter31 @Hilary_Knight @UWshoutouts @BadgerWHockey #gobadgers #gousa pic.twitter.com/XEUxitViyt

— Brianna Decker (@Bdecker14) February 5, 2014
In advance of Team USA's first game Saturday (2 a.m. CT), USAHockey.com has a great read covering the Four Nations Cup loss to Finland, the role of Finnish goalie Noora Raty and how the US is preparing for the rematch.
I'll be up in the middle of the morning/night watching all the games, so make sure you're around Twitter to chat and talk Badgers. I'm @nicolehaase. If we find that there's enough interest, we'll look at doing live blogs/chats for Canada and the medal rounds.
Jessie Vetter will start in goal for Team USA in the first game on Saturday and this USA Today article has some really great, flattering things to say about her.
This notebook from USAHockey implies pace will be a large part of USA's gameplan. More great stuff in there, too.
Meghan Duggan and Brianna Decker had a brush with Russian President Vladimir Putin.
The team picture from yesterday is all official-looking and makes this start to seem real (Tweeted here by @usahockey).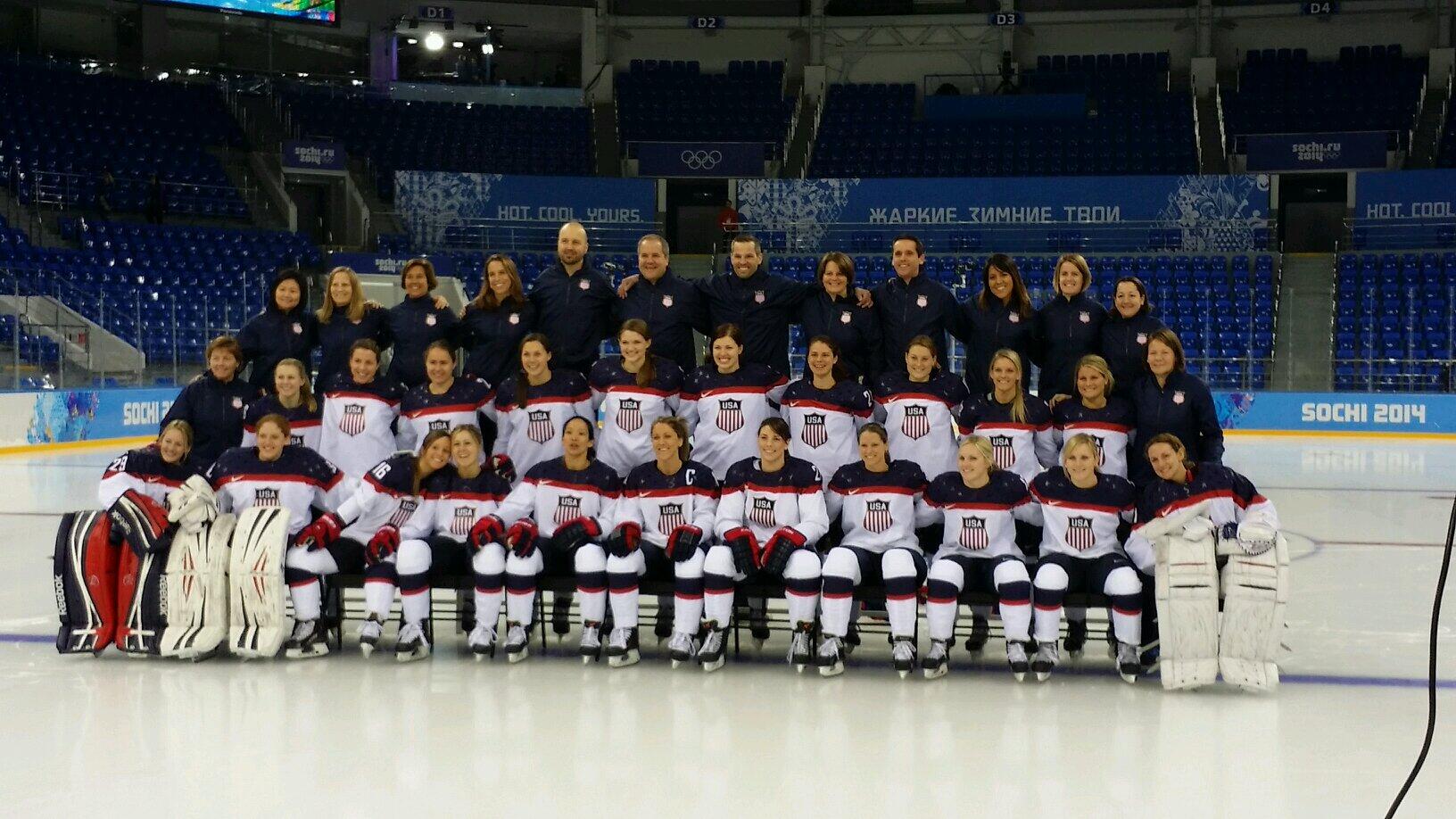 Aside from the actual games, here's some more press on our Olympic Badgers heading into Sochi:
Jessie Vetter, Hilary Knight and Brianna Decker are part of a two-page spread in People magazine that leads off their Olympic coverage in the current issue. The ladies are featured in ball gowns and skates. You can see what the picture looks like here. You can watch a behind-the-scenes video of the shoot here.
Brianna Decker and Joe Pavelski are the main focus of an article in this week's Varsity magazine.
Knight and Duggan have had the lion's share of media the past few days. As the captain, Duggan has gotten a lot of attention, but Knight is clearly a "face" of these Olympics and has done a great job of maximizing her exposure.
Knight apparently took Buddhism at UW and in this video talks about how it taught her to use visualizing and meditation as an athlete.
Knight is apparently one of the worst pranksters on the team. This ESPN video has her and Julie Chu recounting a few pranks from the road.
This is prime time for local papers to highlight their Olympians -- here are two New England-area features on Duggan: one from Metro Boston and the other from New England Hockey Journal.
And one on Knight from a New Hamshire TV station.
Spryliving.com named Knight one of their 8 US Olympians to watch
Stack.com, a fitness site, asked Duggan a bunch of questions about training and diet for interesting insight and a different angle.
This video interview of Knight was one of my favorites from the many. It includes pictures of her growing up and felt the least rehearsed, though clearly it's a sponsored spot. Some good stuff on playing with boys, as well.
ESPN Boston did a feature on Duggan as team captain.
Carbon38 sells fitness clothes, but they did an issue featuring Olympic athletes, one of which was Knight and she has some good answers to their questions.
This is an audio file that is from BBC radio and it's Hilary Knight talking about women's hockey in an overall way for Sochi 2014 including the fight for parity.
Here's a quick CBSNews hit that includes video of Knight and Duggan.
Knight has an active following on Facebook and Twitter and made a thank-you video for her fan before leaving for Sochi. It features her attempting to speak a multitude of languages. This sort of closeness that fans can have with the ladies on the team is one of the reasons I think they'll be very popular in the upcoming weeks.
If you still need pumping up, I had goosebumps about 20 seconds into this video. Can we drop the puck already?
More from Bucky's 5th Quarter