Class

Position

Shoots

Height

Weight

2014


Forward

Left

6'2

185

Team

Hometown

DOB

Muskegon Lumberjacks (USHL)


Eagan, Minn.


1/6/1993
Close to finalizing its 2014 recruiting class, the Wisconsin men's hockey team added another forward to the fold this week. Muskegon Lumberjacks (USHL) forward Cullen Hurley made a verbal commitment to the Badgers on Thursday, making his pledge known via Twitter.
Excited to finally announce that I have committed to play college hockey at the University of Wisconsin-Madison for next year! #Badgers

— Cullen Hurley (@Churls93) April 17, 2014
When reached by phone Thursday afternoon, Hurley, who hails from Eagan, Minn., was thrilled with the opportunity to join the historic UW program.
"I grew up watching Wisconsin, they were obviously close by (to Minnesota)," Hurley said. "I love the way they played and the main thing was I really loved the coaching staff. Also, it's a great school education wise. It was really a no brainer for me."
Hurley comes to Madison after spending two seasons in the USHL with the Muskegon Lumberjacks. In 113 games for Muskegon over the past two years Hurley has notched 13 goals and 23 assists for 36 points.
Prior to his time in the USHL, Hurley spent a season with the Aberdeen Wings of the NAHL where he picked up six goals and 20 points in 45 games.
Before jumping to the junior ranks, Hurley starred at The Academy of Holy Angels, where he finished second in scoring as a senior to current Wisconsin forward Joseph LaBate with 23 goals and 48 points.
Hurley noted the opportunity to be reunited with LaBate is an exciting proposition.
"We grew up playing youth hockey in Eagan and then got to play together at Holy Angels," Hurley said. "I'm very excited to get to play with him again at Wisconsin."
While his offensive numbers don't immediately jump off the page, Hurley, who was a team captain this season in Muskegon, is well known as a good locker room presence which is something the Badgers need as they lose a host of seniors who brought personality to the team.
A versatile player, Hurley spent parts of last season playing wing, center and even defense at times for the Lumberjacks. Hurley noted his ability to play a defensive game as a forward was something the UW coaching staff singled out as a positive in his recruitment.
The addition of Hurley likely puts Wisconsin within one or two spots of finalizing its forwards for next season. The Badgers graduated six seniors up front and also lost Nic Kerdiles after he signed a contract with the Anaheim Ducks, giving up his final two years of eligibility.
Currently, UW has five committed forwards that could come to Madison next season with Hurley being the sixth. Ryan Wagner and Matt Ustaski signed national letters of intent in the fall, and since that time the Badgers have received verbal commitments from Adam Rockwood, Cameron Hughes, Jason Ford and Hurley.
All are expected to join the Wisconsin roster with the possible exception of Hughes. Just a 17-year-old center, it hasn't been 100 percent finalized that he joins the roster next season or if he'll go back to the AJHL with the Spruce Grove Saints. Given the loss of Kerdiles, however, it's very likely Hughes winds up with the Badgers next fall.
Hurley's younger brother, Connor, is committed to play for Notre Dame next season.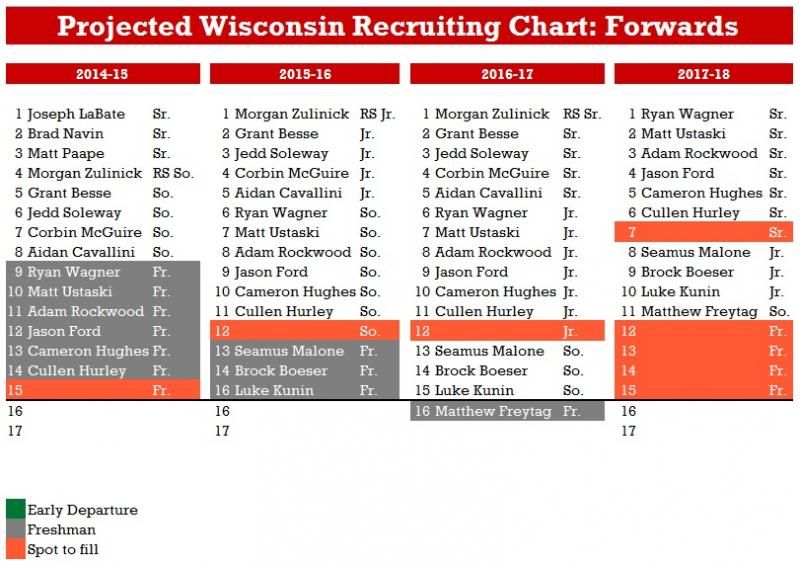 For more hockey coverage, follow Andy on Twitter -- Follow @AndyJohnsonB5Q
You can also reach Andy via e-mail (AndyJohnsonB5Q@gmail.com)