Class

Position

Shoots

Height

Weight

2016


Center

Left

6'2

180

Team

Hometown

DOB

St. Louis AAA U16


Ladue, Mo.


2/11/1998
The pipeline from St. Louis to Madison remains open and flowing.
The Wisconsin men's hockey team received big news this week as St. Louis Blues AAA U16 center Trent Frederic gave a verbal commitment to play for the Badgers starting with the 2016-17 season. Frederic is UW's first 1998-born verbal commitment.
I'm excited and honored to commit to The University of Wisconsin! Feels great to be a badger! #GoBadgers

— Trent Frederic (@tfreddy42) April 17, 2014
When reached for comment on Thursday Frederic was thrilled about the prospects of attending Wisconsin.
"It's the total package," Frederic said. "It's close to home, the rink is phenomenal, the coaches are great and you can't beat the education."
Frederic visited Madison in early February, catching Wisconsin's Thursday-night victory over Minnesota at the Kohl Center. The Badgers completed the sweep the following night. He made a return trip a little over a week ago to check it out one final time before making a decision.
Outstanding with the puck on his blade, Frederic has the frame to work through checks and the hands to protect the puck and pull it around defenders as well. Frederic has a natural skating stride that is so effortless and smooth it almost appears as if he's floating across the ice. He also has outstanding vision and passing skills to set up teammates, as well as the ability to put the puck in the net himself.
The 6'2, 180-pound Frederic chose UW over a list of national powers including Boston College, Boston University, Denver, Michigan State and North Dakota.
Wisconsin has done very well recently recruiting out of the St. Louis area. Former Badgers Michael Davies and John Ramage both were from the area, and the Badgers have received verbal commitments from goaltender Luke Opilka and center Luke Kunin, both of whom skated for the same St. Louis AAA program. Both Opilka and Kunin have since moved on to the U.S. NTDP U17 team.
Rated as one of the top 1998-born players in the country, Frederic has accepted a spot in Ann Arbor to play for the U.S. NTDP the next two seasons before joining the Badgers in 2016.
As with any high-end player, there is some risk involved. Frederic was recently selected in the OHL Priority Selection by the Niagara Ice Dogs in the 6th-round. The pick was nothing more than a flier, however, as Frederic would have been a first-round selection if he had serious interest in the league.
Frederic recently completed his season with the St. Louis AAA team in which he led the club in scoring with 16 goals, 36 assists and 52 points in 54 games. St. Louis reached the semifinals at the USA Tier 1 national tournament before falling to Team Wisconsin.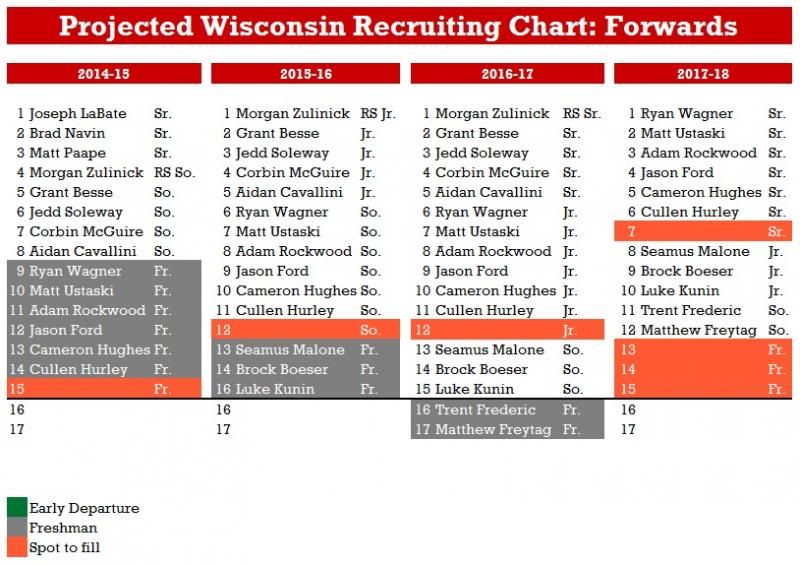 For more hockey coverage, follow Andy on Twitter -- Follow @AndyJohnsonB5Q
You can also reach Andy via e-mail (AndyJohnsonB5Q@gmail.com)