Author's Note: Each week, I have a standing appointment with my sports therapist. Maybe it was all that BadgerMax talking, but we had a particularly jovial conversation. We chat about the latest in Badger fandom. Anything I said is denoted with a [G]. Anything my sports therapist says is denoted with a [D] ... as in "Doctor."
[G] "What is there to say of a massacre?" Do you know who said that, Doc?
[D] Marcus Aurelius?
[G] I made it up, but I feel like it's something George Armstrong Custer would have told the press had they been around.
[D] So, what is there to say of a massacre?
[G] Nothing! That's the whole point. Wisconsin-Maryland? Slaughter. Sure was nice to see some the team firing on all cylinders.
[D] Last week, we talked about just enjoying Melvin Gordon for what he is, do you still agree with that sentiment?
[G] Yes, but Melvin is like a sunset over Lake Mendota. I'm always going to appreciate it; doesn't matter the season, weather or stress levels. He's consistently wonderful. That passing game, though? That's like a snow day in December right before finals. It feels like a fluke. It shouldn't happen, especially given that finals are coming up, but what do you know, you might get two snow days. Boom, baby.
[D] I'm not sure I follow.
[G] It's just my attempt at a metaphor. How could you not enjoy Saturday's game? I walked into the stadium thinking that we might lose ... and then the passing game just kinda took off (relatively speaking), and it was fun to watch us destroy Maryland defensively. I was taking notes for this game and all I wrote down was, "Yes! Sacrifice your tiny body, Drew Meyer!" So yeah, it was a good time.
[D] Well, last week we talked about not living in the past. What about what's ahead? Dual-QB system? Andy Ludwig's playcalling? Rutgers?
I start to laugh.
[G] What on earth makes us think that we have any right to expect something other than what we should be expecting? Ya know? Ludwig does what he does; Tanner McEvoy is not going to switch to wideout. Why would he change that now? Denard Robinson got drafted as an offensive weapon. He's a weapon that's best used at QB given the situation and time into the season. Robinson got drafted as an offensive weapon. McEvoy could be someone's project in like, I don't know, the CFL? XFL? Is that still a thing? He's a weapon that's best used at QB given the situation and time into the season.
[D] I don't think the XFL has been around for many years.
[G] Damn shame. Anyway, here's what scares me about Rutgers. Ray Rice played for them. Also, Greg Schiano coached them. So they've had some dark times lately. Perennial contender Wisconsin come to town, it's Homecoming and I'm sure they'll be playing extra hard to prove that their past two blowout losses were only a mirage. I think Wisconsin is the better team, but it all depends on which team shows up, particularly which Joel McEvoy shows up. I see something to the tune of 35-24 for our Badgers.
[D] Fair enough. It's good you're staying realistic about it. As for the Badger basketball team, what was your favorite thing that happened in the scrimmage?
[G] The scrimmage could not have gone better, particularly for Sam Dekker and Detective Frank Kaminsky (DFK). Sam gimped down the steps to the raucous cheers of the Grateful Red and he didn't even play a minute. It's up for debate as to whether or not Dekker is the fan favorite this year. He tore it up this summer, he got yolked and he got a haircut that makes him look like he'll be in Calvin Klein ads within 3 years. This is great news because this gives DFK just one more bullet point to add to his list of motivation. The national media is loving DFK as a player this year, but the Badger faithful seem to have already taken him for granted a bit. Sounds like the perfect opportunity for DFK to wreak havoc in Atlantis. Sombody's gonna be the Jordan in this relationship, and someone's gotta be the Pippen. I think they'll be throwing kings at each other all season.
[D] I'm going to bite here: If you had to compare Dekker and DFK's friendship as they vie for fan favorite, whom would you say they're most like?
[G] Well other than Dontes and Mondego before the betrayal? Maybe Tyrion and Bronn?
[D] I would have said Bret and Jemaine.
[G] Not bad. What about Shawn and Gus?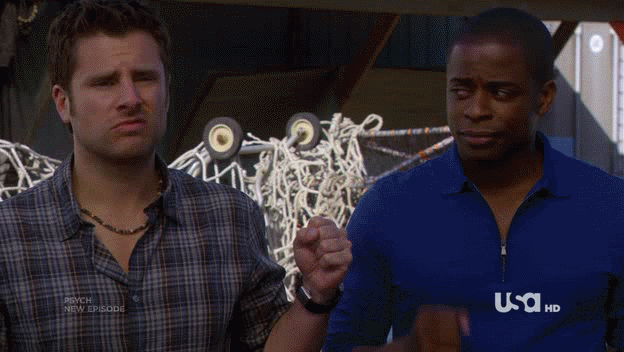 [D] Well, you seem to be very happy. I'm not sure you even needed to come in today.
[G] I don't ever need to come in, Doc. But what else am I gonna do? No one else will stomach listening to me.