So as the year 2013 closes, so does the college football season. Another Wisconsin-y season is in the books, filled with big numbers in the running game, big wins against bad teams, and tragically close losses to the big guys. And there's was plenty of Joel Stave. There was a little bit of this Joel Stave, and just a bit too much of this Joel Stave.
One thing was that was nice to follow throughout the season was the Badgers' recruiting efforts. Gary Andersen's staff put up a fence around the state of Wisconsin that only Gaelin Elmore could escape, as he locked down the state's top talent. UW also went out of state to grab some talented 4-star prospects in Darien Watkins, D.J. Gillins, and Taiwan Deal.

Gillins, pictured above, will be taking his 4-star talents to Madison in 2014.
Of course, Wisconsin missed out on some elite talent yesterday when Mixon and Kamara chose different schools. It's disappointing, but when you consider how close Wisconsin was, you have to feel like they staff will be able to get a couple of elite out-of-state talents to sign with UW in the near future. There's still hope that they could add another 4-star talent, as guys like Kolton Miller, Kaleb McGary, and Chris Lammons are still on the board.
Right now, as of 247sports composite, the Badgers have the 30th best class in the nation. They also crack the Top 25 in both Rivals and Scout's team rankings. It really seems like the Badgers have taken a small step up in recruiting, and with a couple of big seasons in the future, UW may not find itself too far behind Michigan, and maybe even Ohio State, when it comes to attracting top talent.
A quick guess for how Wisconsin will finish it's class would look like this:

Tackle Kolton Miller
Corner/Safety D'Cota Dixon
Corner Diondre Porter
Wideout Melvin Holland
An under-the-radar gem to cap things off!

Miller would be a huge pickup, and a bit of a luxury as well, as Wisconsin already has 6 commitments to the offensive line. Dixon and Porter are visiting late in January and are must-haves if Wisconsin doesn't land Lammons or Andre Godfrey. Holland is getting a late look, and I suspect he'll get a Wisconsin offer sometime before signing day and commit to the UW over rival Minnesota.
With 2013 done with, and 2014 to look forward to, I'm going to project next year's depth chart. This is really a shot in the dark, as many of these guys haven't gotten any real game action, and position changes and transfers will happen. But if people cared about guessing and being wrong, NFL Mock draft's wouldn't exist.
2014 Depth Chart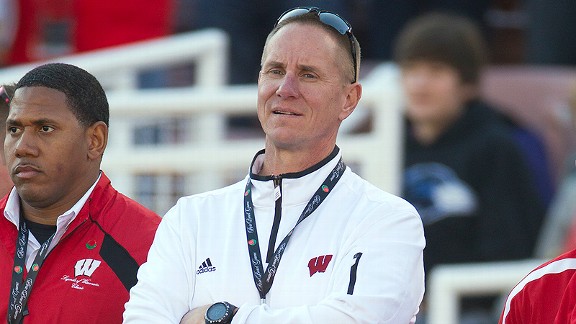 Move aside Coach Andersen, I've got this.
Quarterback
Tanner McEvoy (Jr), Joel Stave (Jr), Bart Houston (So)
Running Back
Melvin Gordon (Jr), Corey Clement (So), Vonte Jackson (So), Taiwan Deal (Fr)
Full Back
Derek Watt (Jr), Derek Straus (Jr), DJ Spurling (So)
Wide Receiver 1
Alex Erickson (So), Rob Wheelwright (So), Krenwick Sanders (Fr)
Wide Receiver 2
Jordan Frederick (Jr), Reggie Love (So), Jazz Peavy (Fr)
Tight End
Sam Arneson (Sr), Eric Steffes (So), Austin Traylor (Jr)
Left Tackle
Tyler Marz (Jr), Hayden Biegel (Fr)
Left Guard
Dan Voltz (So), Ray Ball (Jr)
Center
Dallas Lewallen (Sr), Voltz (So)
Right Guard
Kyle Costigan (Sr), Jack Keeler (Fr)
Right Tackle
Rob Havenstein (Sr), Jaden Gault (Fr)
Defensive End
Konrad Zagzebski (Sr), Chikwe Obasih (Fr), James Adeyanju (Jr)
Nose
Warren Herring (Sr), Craig Evans (Fr), Bryce Gilbert (Sr)
Defensive End
Jake Keefer (Jr), Arthur Goldberg (So)
Boundary OLB
Vince Biegel (So), Alec James (Fr), Jesse Hayes (Jr)
ILB
Marcus Trotter (Sr), Garrett Dooley (Fr)
ILB
Derek Landisch (Sr), Austin Ramesh (Fr)
Field OLB
Joe Schobert (Jr), Leon Jacobs (So)
Cornerback
Sojourn Shelton (So), Peniel Jean (Sr), A.J. Jordan (Jr)
Safety
Nate Hammon (So), Austin Hudson (Fr), Leo Musso (So)
Safety
Michael Caputo (Jr), Serge Trezy (Jr), Michael Trotter (Sr)
Cornerback
Darius Hilary (Jr), Devin Gaulden (Sr), T.J. Reynard (Jr)
Kicker
Rafael Gaglianone (Fr), Jack Russell (Jr), Andrew Endicott (Kick-offs) (So)
Punter
Drew Meyer (Jr), Brett Nethery (So)
Kick Returner
Kenzel Doe (Sr), Serge Trezy (Jr), Natrell Jamerson (Fr)
Punt Returner
Natrell Jamerson (Fr), Kenzel Doe (Sr), Jordan Frederick (Jr)
A lot of people seem to want McEvoy playing Safety or Wideout, but I really want to see him at Quarterback and that's where I think he'll end up. He has the athleticism to make for a strong option attack, and I think he'll surprise people with his ability to make throws consistently, even with that unorthodox release.

The quarterback-turned-safety may end up right back under center.
I don't have many true freshman slated to play, which is usually the most realistic thing. Every couple of years you'll have your Sojourn Shelton, but usually, the freshman need to a full season at least to get themselves ready for the college game. I see Evans getting on the field on defense, and at least one wideout will come in and play on offense. Jamerson will get work as a returner, and guys will get on the field for special teams. I see Hudson being a gunner on return coverage teams, as well as getting work at safety in sub packages.
One thing I noticed about Kenzel Doe: he didn't get hardly any action at Wideout for what felt like a long string of games, but he went into the game late against South Carolina for most of the 4th quarter and got two quick targets. I think the staff likes Doe's receiving skills, but being so small (listed 5'8" 170, maybe a bit generous) he can't really run block, which is extremely vital to the offense. That's why I left him out of the Wideout depth chart since I think he's really just a situational guy.
So there you have it, feel free to dissect and whatnot. Hope everyone had a great new year! (other than the Bowl loss of course). And go Packers!